The Baleful Godmother Starter Library
Start this exciting new historical romance series today!
Get the first novel (and the four prequel novellas) for FREE.
Join my readers' group for your free ebooks, book news, bonus scenes, discount codes, and other goodies.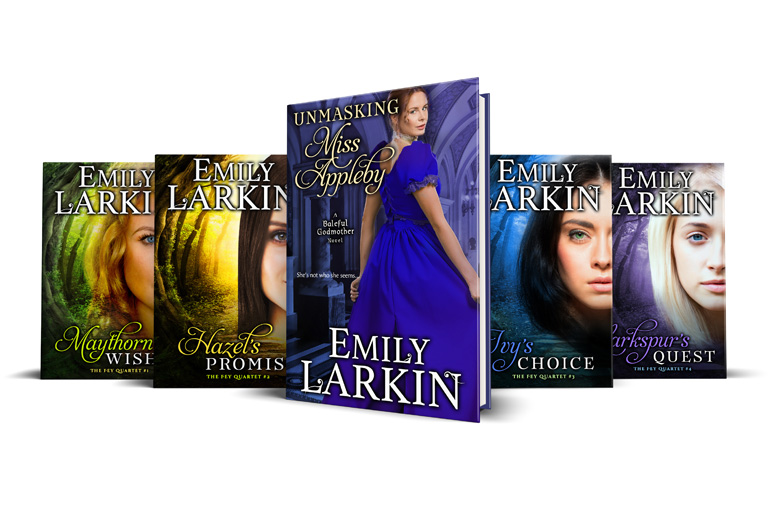 What you'll be getting:
The Fey Quartet romance novella collection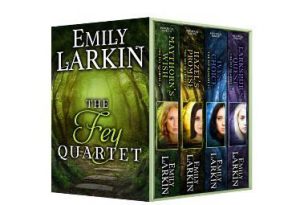 One widow ~ three daughters ~ four heroes
and some very dangerous Faeries.
*The prequel to the Baleful Godmother historical romance series.*
MAYTHORN'S WISH
For years the widowed Maythorn Miller has yearned for a man she can never have: the village blacksmith, Ren. But when Maythorn rescues a lost child, her life takes a very unexpected turn…
HAZEL'S PROMISE
Hazel Miller is betrothed to a man who went off to earn his fortune—and never returned. Dressed as a boy, she sets out to find him, but the roads of Medieval England are fraught with danger. When a ragged stranger risks his life to protect her, how can she refuse his company?
IVY'S CHOICE
Ivy Miller is lame, but in a few days she'll receive a Faerie wish. She could wish herself able to walk freely again … if her beloved sister didn't need saving. But Ivy's sister isn't the only person in desperate need of rescue. A man trapped in the shape of a deer emerges from the forest. Can Ivy break the agonizing spell that binds him?
LARKSPUR'S QUEST
Larkspur Miller is determined to earn a Faerie wish for her sister. She knows it won't be easy—and that it will require a man. She's chosen her man: Cadoc Ironfist, liegeman to the Lord Warder of Dapple Vale. But Cadoc is reluctant, and the task is far more dangerous than Larkspur realized…
"Her haunting prose reads like Hans Christian Andersen for twenty-first century adults."
~ Mindy Klasky, USA TODAY bestselling author
Unmasking Miss Appleby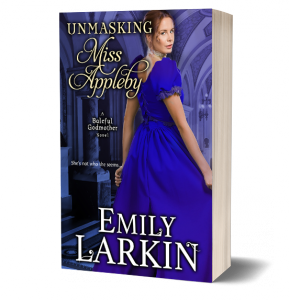 She's not who she seems…
On her 25th birthday, Charlotte Appleby receives an unusual gift from the Faerie godmother she never knew she had: the ability to change shape.
Penniless and orphaned, she sets off for London to make her fortune as a man. But a position as secretary to Lord Cosgrove proves unexpectedly challenging. Someone is trying to destroy Cosgrove and his life is increasingly in jeopardy.
As Charlotte plunges into London's backstreets at Cosgrove's side, hunting his persecutor, she finds herself fighting for her life—and falling in love…
"The best historical romance I have read all year."
~ Rachel @ Heroes and Heartbreakers
*Desert Isle Keeper*
"Emotionally satisfying, quirky and sensual. Securely tucked onto my keeper shelf."
~ Caz @ All About Romance
"Sexy, unusual, and vastly entertaining!"
~ Anna Campbell, author of the Dashing Widows series
"One of the most fascinating, unique, and well written books I have read."
~ Roses R Blue